5. CAVE CHURCH ARCHANGEL MICHAEL IN RADOZDA
In a natural cave on a steep rock above the village of Radozda is a church dedicated to Archangel Michael. It is one of the oldest cave churches discovered on the shores of Lake Ohrid. Its frescos, painted on the uneven wall of the cave, date back to the end of 13th century.
A close examination reveals the extraordinarily beautiful presentation of the Archangel Michael in the composition of the Miracle of Cana. Nearby is a fishermen's village with excellent restaurants.
.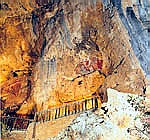 6. CAVE CHURCHES IN KALISTA
The small cave church of the Nativity of the Virgin, is situated high in the rocks on the western shore of Lake Ohrid near the village of Kalista and close to a monastery complex. Entry into the church is gained through a wall (which also provides the church's apse) into the natural space of the cave. The interor of the church was painted during the 15th or 16th century.
Nearby, on a steep cliff overlooking Lake Ohrid is another cave church, dedicated to St. Athanasios. The natural opening of the cave has been used as a nave while the apse and the eastern wall are built of craggy stones. An old painting in the church is attributed to the second half of the 14th or the first half of the 15th century.
8. EARLY CHRISTIAN BASILICA IN OKTISI
Located near Vevcani in the mountain village of Oktisi is an ancient Christian basilica from the end of 5th or the beginning of 6th century. The mosaic floor of the church is richly decorated with representations of deer, horses, flowers, trees, and geometrical ornamentation.